Thanks to our Marquee sponsor

Submission Deadline Extended!
Note that selected finalists will have one month to work on their pitches after they are notified. We strongly encourage all interested individuals/groups to send their idea even if it is not polished.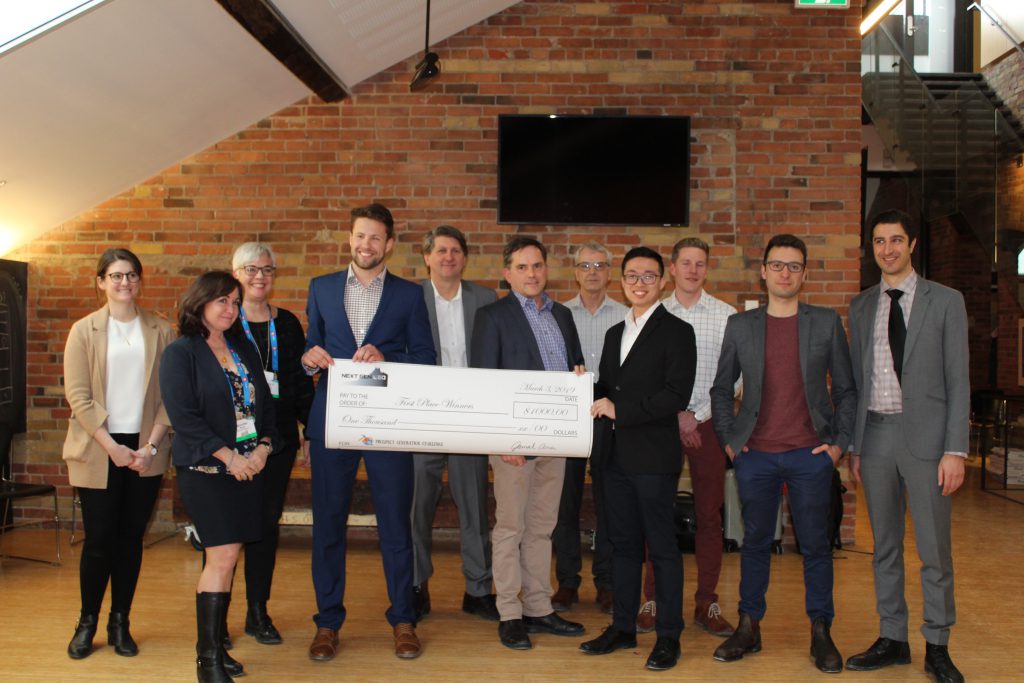 Pitch your idea for a new mineral exploration project! This year the Challenge will be divided into two categories: one for undergraduate students and another category for graduate students and early-career geoscientists up to 30 years old.
The Prospect Generation Challenge is a "Dragon's Den" style event that will be held during the Prospectors & Developers Association of Canada (PDAC) 2020 Convention in Toronto, on Saturday February 29. The goal of this event is to excite students and early-career geoscientists about the mineral exploration industry, to create jobs for students and early-career geoscientists in this sector, and educate the public about how this industry is evolving and improving. The Challenge is a catalyst to springboard the mineral exploration industry into a generation of renewed growth by bridging the gap between academia and industry, and by nurturing socially conscious entrepreneurs who want their mineral projects to have a sustainable benefit for all stakeholders.
Friday, January 24th, 2020, 11:59 pm EST (8:59 pm PST) – Submission Deadline
Submission Deadline extended to Sunday, February 2nd, 2020, 11:59 pm EST (8:59 pm PST)
Monday, February 3rd, 2020 – Finalists notified
Saturday, February 29, 2020 – Finalists Pitch at PDAC 2020 Convention
There will be at least $10,000 of funding available for the winning project thanks to the continued sponsorship of Transition Metals Corp. We are in advanced discussions with other groups interested in sponsoring and expect to increase the prize pool further!
Finalists proposed project sites on open ground may be staked by Next Gen Geo, in which case the team involved with the proposal will be awarded 25% of the first tranche of any cash payment received if the property is optioned within 2 years. Finalists who have staked their project sites will have the opportunity to negotiate with Next Gen Geo and other investors for potential investment. See Rules for full terms and conditions.
Apart from the potential financial rewards, the opportunities offered by this challenge are substantial and include a significant networking opportunity and distinction from other students at the conference by demonstration of your entrepreneurial spirit and passion for mineral exploration.
The Challenge will teach participants about how to generate and evaluate mineral exploration targets and how to pitch their exploration ideas to investors. Participants will learn to interpret different types of geoscience data, they will deepen their understanding of various mineral deposit models, they will gain a practical understanding of government mineral claim systems, and will get an introductory understanding of mining deal terms. Those teams who make it to the finals will be provided with support and guidance on how to apply for various grants and other sources of funding for exploration in Canada.
Browse through the list of resources below (we recommend looking at the Ontario and Quebec guides first). Finding an interesting mineral exploration target requires a combination of hard work and good luck. Most provinces and territories have a system that will show you where mineral claims are located, as well as other data such as mineral occurrences, drill holes, geology, geophysics, etc. As you look at the various datasets in an area think about how they are connected and how that relates to the story you plan to build. Our team is happy to provide support and answer questions. While our website only provides links to Canadian resources, you are welcome to explore anywhere in the world.
If you are located near Toronto, a great way to get started is by attending one of our Mineral Exploration Group meetings. If you are not in Toronto you can still participate by emailing us for help, and we can even help you set up a local group for like-minded people to collaborate on a submission.
It should take approximately 30-40 hours of work from start to finish for a team to put together a submission for the Challenge. This includes the time it would take get familiar with one of the provincial geoscience databases and mineral tenure systems, browse through the data and find a few interesting targets, select the one you choose to focus on and build a case for it in the form of a presentation and supporting documents required for submission. Finding teammates to work with will make the project easier and more fun!
The Undergraduate category is open to undergraduate students at Canadian universities. Projects can be located anywhere in Canada
The Early Career category is open to undergraduate students, graduate students and early-career geoscientists up to 30 years old and with fewer than 5 years of industry experience, from anywhere in the world. There is no geographic restriction on the project location.
For a project to be eligible, the mineral rights to the project must be 100% owned by the team members, or the project must be on open ground (mineral rights are available and not owned by anyone). For team submissions, all team members must meet the eligibility criteria for the category in which the submission is made. Teams cannot comprise more than three members.
Submissions will be accepted by email at challenge@nextgengeo.ca until Friday, January 24th, 2020 at 11:59 PM EST. Late submissions will not be accepted.
Submission Requirements
Each team member must fill out a Submission Form. Attach all forms to your submission email.
Report submission PDF:

 Maximum of six 8.5" by 11" pages; minimum 12-point font size; minimum margins are one inch; text in tables and figures must be no smaller than 9-point font size.
Email as a single unlocked PDF document or link to document stored in the cloud, 20 MB maximum. Embedded hyperlinks to external content can be included but may not be reviewed.

Optional: A Pitch Video, no longer than 10 minutes, uploaded to YouTube as a private video, shared with challenge@nextgengeo.ca
Optional: 1-page annotated list of supplementary data with links to reports, data sources, local mineral claims rules
The report submission must include the following within the six-page limit and follow this template:
Executive Summary
Brief biographies of each member of the team
Proof that proposed claims are either on open ground or already staked by the team
Explanation of why you believe this land is worth staking
 Proposal for the work you would do on the claim to test your hypothesis and add value to the project. Assume a budget of $15,000 CAD (not including salaries) and a timeframe of May – August 2020 to complete the work.
Saturday, February 29th, 2020
Metro Toronto Convention Centre
Undergraduate Category: 9:00 am – 12:30 pm
Early-Career Category: 2:00 pm – 5:30 pm
Please direct any requests for information to Jamal Amin (jamal@nextgengeo.ca)